By Nora Herrera, Institutional Strenghtening Official, Water For People Guatemala
Lea en español aquí
---
Do you remember how you were as a child? Pleasant moments, pranks, that bicycle for racing, a lovable pet, that lifelong friend… and the ability to forget and love without conditions.
With the strength of those beautiful memories, I ask you to visualize the image of a ten-year-old girl with a smile full of joy, with large black eyes and long braids adorning her neck, and her clothing made up of outstanding colorful fabric that identifies her as a member of the K´iche people.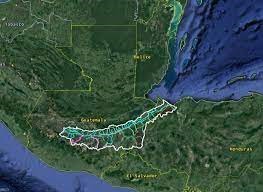 She is a fourth-grade student at the official co-ed school in her community that is located in the upper part of the Sierra Madre that surrounds the municipality of Santa Cruz del Quiche; from there, the streams that give birth to the longest river in the country called "Motagua" flow. Call her by her Spanish name "Julia" and tell her that you want to know her story.
After a long period of quarantine, Julia returns to school and to her astonishment, she no longer recognizes her school as the space of joy and learning it used to be. Among the crowd of children, she cannot distinguish the familiar little faces she had missed. Some of the shy and complicity laughs have disappeared without saying goodbye to her, giving the certainty of the school dropout caused by the effects of COVID-19. Education is a human right promulgated for the world's children, but in this country, this is something difficult to fulfill. At their young age, Julia and her friends do not understand why several of their little friends have not returned to school and have been left out of the school system.
The school infrastructure does not provide a very essential service, an access to a safe toilet. Julia and her friends remember they usually to go out as a group to find a nearby place that they can use as a toilet, something that is part of the school dynamic. Without much thought, they start a long race and compete to get there first, and in their innocence, they give a positive meaning to the lack of access to a safe toilet.
Julia has reached the riverbank first; however, she stops because she cannot quickly decide which is the most suitable place. As she explores it, she identifies several possibilities, but she must ensure privacy, safety and security, and comfort. Fortunately for Julia, all the children in her school are prepared to protect and take care of themselves, something that unfortunately does not happen in all schools.
The river is a solution for handwashing, but at the same time, it poses threat to the lives of children, and, on the other hand, there is no access to soap and towels. Many of them will eat their snacks with dirty hands and with negative consequences for their health.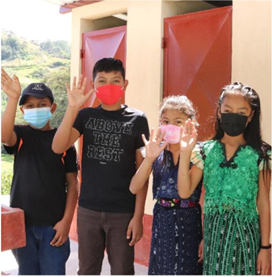 Julia and her friends arrive home where there seems to be little difference their school, in terms of lack of water and sanitation. At school, the lack of access to toilets is an issue that is usually solved at group level. At home, risks are experienced individually. As limitations are not disclosed, it is difficult to understand the negative impact or the incidence it has for each of its members.
Gender issues lead women to face greater difficulties than men, based on biological and social conditions. Women must take care not to slip down due to the slope of the ground, look for a place where no one can see them and that, in addition, allows them to keep the hygiene they need under certain special conditions. Males generally need special places only when they defecate. The importance of a toilet must be seen with a vision of gender and equity.
SPIRIT-POWERED SOLUTIONS
Julia and her friends learn that poverty and exclusion are part of life. The circle of exclusion from water and sanitation services is a constant element in several of the schools located in the area where Water For People works in Quiché-Guatemala, as it ranks 0.62 in the national development ranking (UNDP 2006).
Resilience is a value inherited by the K'iche culture; it consists of never giving up and doing everything with the invisible force provided by the instinct of conservation. They call it Kub´al k´ux, which for English speakers would mean something close to "hope". Learning Kub'al k'ux from childhood will allow the K'iche people to use their inner strength to survive adversity and seek innovative solutions.
Water For People's Everyone Forever strategy might be the Kub'al k'ux that was needed.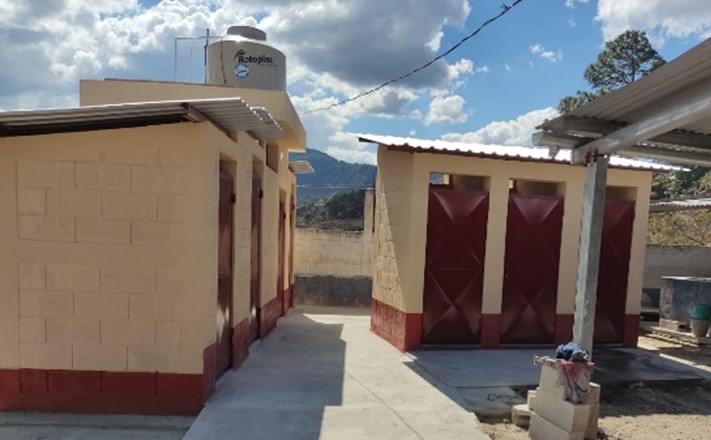 This strategy seeks to jointly start actions that allow access to safe and sustainable water and sanitation. After fifteen years, Water For People accumulates lessons that are useful for continuous improvement. Based on the above, WFP implements equity and inclusion indicators that allow measuring progress in access to, and coverage of water, sanitation, and hygiene services, through the implementation of technological and innovative alternatives on water and sanitation in schools and health units, as well as the self-construction of toilets adapted to family income levels and water solutions according to the topographical conditions of the communities, among others.
LEARNINGS AND INVESTMENT
At the beginning of the Program's operations in Guatemala, the School Water, Sanitation and Hygiene systems (SWASH) – have been modified in order to ensure safe and equitable access for children.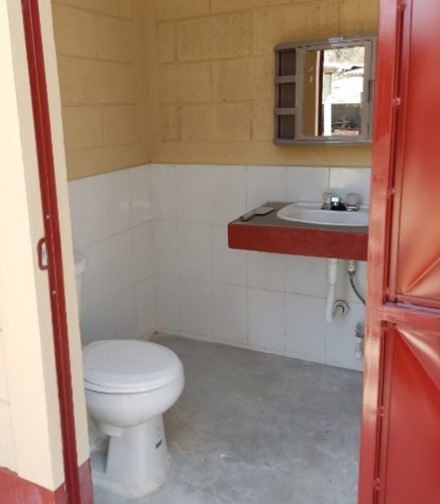 What was initially built only considering the capacity of services for children and teachers, without any special distinction, changed, in order to promote equity and inclusion in access to water and sanitation services.
Infrastructure is now built considering age and gender aspects. A toilet and sink of small dimensions suitable for pre-school children (4 to 6 years old), another different type of toilet for the use of adolescent girls accompanied by supplies that allow them to properly manage their menstrual cycles, as well as other toilets for the use of schoolchildren ages 7 to 10.
All children have been included to benefited with toilet services in locations that are easily accessible for those who need it. The inset photograph shows a special washable toilet for early adolescent girls (ages 10-13). In the background you can see a piece of furniture to place the specific supplies for the menstruation hygienic and safe management.
RESULTS
To date, 95% coverage has been reached in schools in the municipalities of San Antonio Ilotenango and Santa Cruz, investment registered for the years 2019 to 2021 indicates that a total of of Q 1,891,426.24 with direct benefit of 4,298 infants have been invested in the area of action.
Changing the lives of schoolchildren like Julia requires support. Each year Water For People requires funding to bring "safe access to water and sanitation" to schools, healthcare centers, communities, and homes. There are many people in need, and they require support to have adequate infrastructure for water and sanitation; from the dwellers in the communities located at the top of the mountains, requiring costly technological innovations, to the community and municipal healthcare centers that that serve two thousand people of all ages.
We thank everyone for your donations and technical input! Thank you for changing the lives of children like Julia and her friends and for being part of the community Kub'al k'ux and the work that Water For People does in Guatemala!
Share this post with your networks