scaling Sanitation Services within everyone forever districts and beyond
The graphic below and corresponding details demonstrate the path for scaling sanitation services, regardless of whether they are implemented within or outside of Everyone Forever district boundaries. This framework is applied in addition to the water and sanitation work we implement in Everyone Forever districts.
Water For People evaluates the gaps that exist in the sanitation value chain, where the market is not adequately serving a population with safe services, and identifies opportunities to develop and strengthen delivery models for products and services.
Sometimes, this means developing core services where there are none, such as facilitating the emergence and growth of pit emptying businesses to service households that have no service. As market systems develop, this more often means strengthening and improving the efficiency of core services, such as supporting an association of pit emptying businesses for the overall growth and sustainability of the services in that market.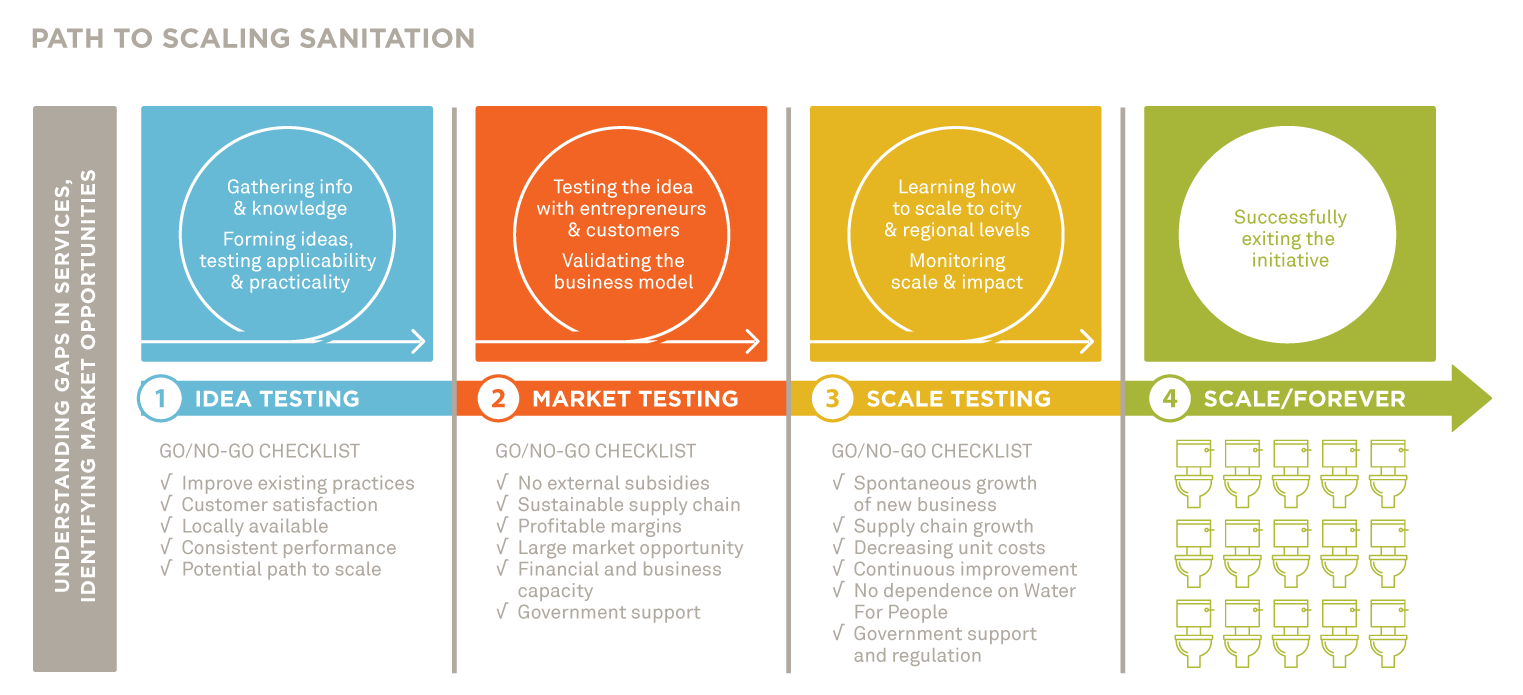 Systems that provide sanitation services can be very thin, highly fragmented, and inefficient, but they do exist, and this is the foundation on which better quality services must grow. Water For People creates and develops potential solutions to improve these systems from an understanding of household consumers, existing technologies and practices, government attitudes, and the wider market system. Successful initiatives respond to what consumers will
want, use, maintain, and pay for, are appropriate to the local context, and add value to the way the households manage their sanitation facilities.
Water For People uses the principles of human-centered design to create or re-design products and services that are specifically designed for the poor. While this is often a high-risk/high-reward process, idea testing is designed to encourage experimentation without worrying about failure. The key is to fail fast and carry the lessons forward.
At this stage, teams decide whether to abandon the development process and document the lessons learned to ensure others do not waste their time and efforts on the failed idea. The ideas with the highest potential and technical feasibility will be moved on to the market testing stage to test the idea's sustainability within the actual market or government system. Stage 1 results in a prototype or delivery model with the potential to scale in the market testing stage. At this point, Water For People remains firmly in control of the process and maintains strategic and intellectual control.
In the market testing stage, Water For People tests whether a sufficient number of consumers will like and value the sanitation product or service, if service providers are willing to risk their own time and money to make it work, and if it can be made into a commercially sustained process. This stage is characterized by Water For People having a direct relationship with one or two first movers to gain a better understanding of the systemic conditions and economic constraints. By working at a level more distant from the customer and not engaging in direct implementation, our interventions are better designed for the context and more likely to sustainably scale in later phases of the program.
For businesses, we carefully select a first-mover entrepreneur to pursue the opportunity and support them in marketing their services and finding customers. Then, the entrepreneur tries to earn sufficient income from sales to consumers and with as little interference from Water For People as possible, as our role shifts to one of monitoring performance and identifying further areas of refinement and iteration. Our goal is to never form a part of the supply chain, as our active involvement as a visible partner creates dependency and makes our eventual exit nearly impossible.
For processes more centered about community mobilization, we build relationships with the partner institution(s) responsible for implementing sanitation services or programs. We influence the partner's capacities and incentives in such a way to tailor solutions to sanitation systems that will be institutionalized in the system after Water For People's exit. Advocacy efforts are often a focus in these interventions, encouraging similar players to replicate the process that has already proven successful in Stage 1. It takes some time before entrepreneurs, customers, and government officials are sufficiently confident to expand the initiative and enter it into the scaling process. Some initiatives will not prove to be viable, and this is part of a valuable learning process.
In this stage, Water For People facilitates five scaling strategies, summarized as: 
Achieve scale through big actors
Work with first movers to create a demonstration effect
Actively support second movers
Create or strengthen supporting functions
Strengthen and reform rules and regulations
While the approach to scaling is country and context specific, most of the strategies are based on the principle of crowding in: new entrepreneurs independently decide to start their own sanitation businesses and meet what they consider to be a growing customer demand. New government institutions realize the success of the intervention developed and decide to adopt it. All actors are adapting the intervention that Water For People initially supported more heavily, because ownership and control lies with them. This is often accompanied by a more intensive evaluation on inclusion of vulnerable groups and exploration of suitable mechanisms to reach those groups.
During this stage, Water For People shifts from having a direct relationship with individual implementers to supporting the industry as whole. This may include influencing the policy and regulatory environment, marketing, and developing financing channels between entrepreneurs and commercial lenders. The aim is to develop a competitive environment where there is incentive and capacity to improve and expand service delivery.
During this stage, Water For People has met the scaling criteria and continues to support the monitoring process to understand whether the process is actually scaling (the number of customers is increasing) and whether Water For People has a role with furthering market penetration or expanding to new markets. This additional work to maximize the scaling process is discussed in the subsequent section on national and global scale. The process of proving
scalability including these 4 stages can take 4-7 years.
Discover more related to implementing sanitation initiatives.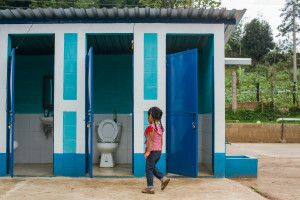 By Steven Sugden
San Bartolomé es un municipio pequeño y aislado, situado en lo profundo del departamento de Quiché, en la zona rural de Guatemala. En él se destacan algunos de los problemas reales a los que se enfrentan muchos pueblos pequeños en relación con la gestión de los servicios de agua y saneamiento en Guatemala, América Latina y otros lugares.