wash services for everyone forever
The Everyone Forever model components are implemented in phases, achieving key milestones in each phase before moving to the next. The graphic below and corresponding details about each step describe the roadmap for implementing sustainable WASH services within Everyone Forever districts.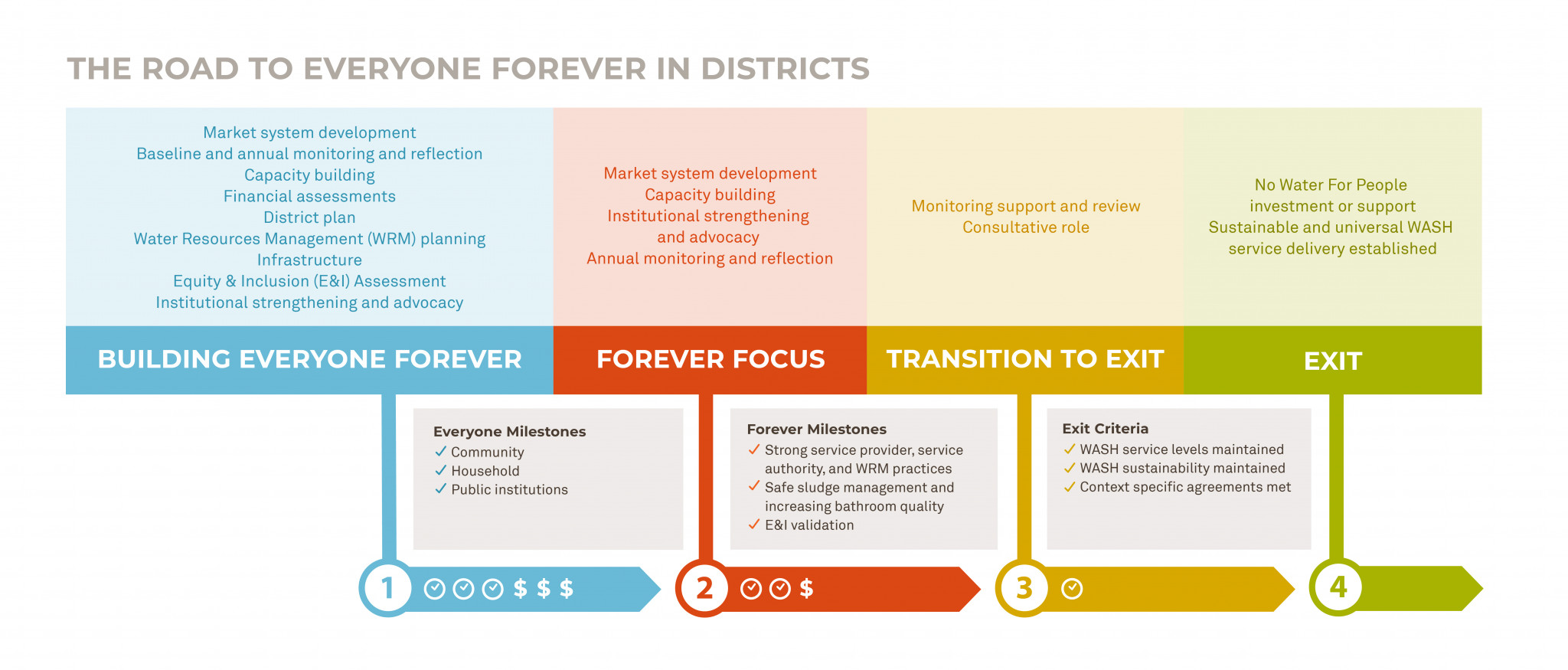 During this phase, Water For People works with district government partners to lay a foundation for a sustainable service ecosystem to achieve Everyone Forever. This includes the baseline assessment to prioritize initial needs; establishing the service authority, service provider, and all institutional arrangements; developing and executing the District WASH Plan and WRM Plan; designing, building, and rehabilitating water infrastructure; capacity-building for the service authority, service provider, water committees, communities, sanitation entrepreneurs, schools, and health centers; conducting financial assessments (using the Asset Analysis, AtWhatCost, Historical Investment, Direct Support Costs, and District Financial Sustainability Scorecard
tools) to ensure sustainable tariffs and financing; and conducting annual level of service and sustainability monitoring to measure progress and strategically plan to reach Everyone Forever. It is important to note that we do not focus first on infrastructure and level of service and then sustainability (as a linear process); rather, elements of Everyone and Forever are implemented simultaneously to ensure a comprehensive and sustainable service environment.
Before moving to the Forever Focus phase, all three Everyone milestones must be reached. This means achieving an intermediate (yellow) or high (green) level of service in at least 90% of communities, 95% of public institutions, and 95% of households, as verified in the annual monitoring processes.
Having achieved all three Everyone milestones, Water For People's focus in this phase is to continue strengthening the already-established actors and factors of service delivery and to equip service authorities to take ownership of the full WASH system. With less focus on infrastructure and decreased direct investment, Water For People has more capacity to focus on institutional strengthening and advocacy, continued capacity building, and annual monitoring and reflection. The goal is for service authorities have full responsibility to manage assets, conduct annual monitoring, lead investment planning, facilitate WRM planning, set sustainable tariffs, train service providers to keep water and sanitation systems running, develop a user feedback system to respond to issues, ensure intermediate or high levels of service, and develop sustainable supply chains for spare parts and sanitation products and services. This phase culminates in achieving the Forever milestone (indicating that a district has established sustainable services), as demonstrated by the Sustainable Services Checklist. This means that services are sustainable, and systems can be operated and maintained to achieve high-quality services without involvement from Water For People or any other international nongovernmental organization.
Before moving to the Oversight Only phase, service levels must be maintained, and the Forever milestone must be reached. This means achieving an intermediate (yellow) or high (green) level of sustainability for each of the eight indicators on the annual Sustainability Services Checklist: service authority structure, finance, management, and monitoring; service provider structure, finance, and O&M; water resources management.
During this phase, Water For People takes a hands-off approach, serving in a consultative role, with no direct investment. This phase is estimated to last 3-5 years, but the duration depends on whether service levels and sustainability is maintained. We are available to districts in an advisory capacity and offer monitoring support and review. We use this phase to provide short-term support to districts after achieving Everyone and Forever milestones in preparation for successful exit. This allows for monitoring "shocks to the system" (political or administration changes, natural disasters, socio-political crises) to ensure systems are resilient and institutions can re-build without intervention. We review monitoring data for levels of service and sustainability indicators to ensure Water For People can fully exit a district without a negative impact on service delivery.
Before fully exiting a district, levels of service and sustainability indicators must be maintained, and a set of exit criteria, established in collaboration with district partners, must be reached. These criteria must include verification that the remaining 5% of the population not reached with safe and sustainable WASH services does not include vulnerable and excluded populations, among others such as user satisfaction metrics.
At this point, the district has achieved the exit criteria and Water For People leaves the district, and no remaining investment or support is planned. The handover to district partners is complete, with the service authority fully funding, managing, and monitoring the WASH service environment. It is the moment when we are confident services will be sustained over the long term with adequate infrastructure, institutions, and financing. The district WASH office does not depend on Water For People.