Welcome to The WASH ROOM
The hub for everything you want and need to know about providing sustainable water, sanitation, and hygiene (WASH) services at scale. We're here to talk about Everyone Forever, systems change, sustainability, and real solutions to reaching Sustainable Development Goal 6 - water and sanitation for all.
RECENT BLOGS
Find all of our blogs in English and Español and explore the related categories to learn more about Water For People, Everyone Forever, and the extraordinary partners who support this critical work.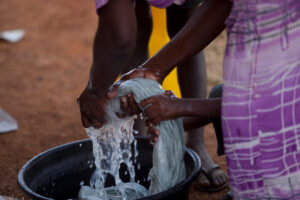 By Yvonne Lugalli
Conducting a stakeholder analysis for a WASH project includes very specific steps, however, while the process may seem standard, there is more to consider than what theory dictates. In this blog, Yvonne Lugali will share her experience in managing stakeholders in WASH projects to ensure a successful outcome for everyone.
Read More

→
THE WASH ROOM REFLECTS our values
Our values at Water For People are based on demonstrating integrity in all we do. By sharing our resources, lessons learned, and methodologies, we aim to embody these values and support others in scaling the Everyone Forever model across the world. 
Accountability
to communities, partners, and each other
Courage
to innovate, to risk, to lead
Empowerment
of citizens, families, and local institutions
Partnership
on the ground, in the sector, and at all levels of government
Transparency
in what we do, what it costs, and what is working