By Eugene Dusingizumuremyi, Program Manager, Water For People Rwanda
Versión en español aquí.
---
Growing up in the rural, dry land of eastern Rwanda, my family always struggled to access clean water. Every morning, I would wake up around 5 a.m. and walk three kilometers in search of water. As I grew up, I imagined a world where access to water was simple. I always asked myself: What would it look like to get up and fetch clean water at home or in the neighborhood? I dreamt of that life and resolved that when I grew up, I would try my best to help people access water. After high school, my dream was to be an engineer dedicated to solving water problems.
Fast forward to the mid-2000s, I completed my engineering studies and began my engineering career as a university lecturer. In 2010, I joined Rwanda's Ministry of Infrastructure (MININFRA) where I worked on planning and monitoring water supply projects. My childhood dream persisted, pushing me to become even more involved. Two years later, I joined Water For People in Rwanda and was tasked to manage the implementation of the Rulindo Challenge Program, a highly ambitious plan to bring water to the entire population of Rulindo District.
On my first trip to Rulindo, a high-altitude district where communities mostly live on top of hills, I learned that people were struggling to access water. On that trip, I met a woman called Marianne, a mother of eight kids, who told me that she travels up to two hours to get water from a stream flowing downhill. I heard how most people in this community could only afford to fetch one or two 20-liter jerrycans of water a day for an average family of six.i Because the distance was too long and the task too tiresome, families learned how to use less water, even when it meant going days without having a shower. Children were missing school because they had to look for water, and people who were unable to fetch water by themselves had to pay extra.iiThe stories Marianne shared were heartbreaking and reminded me of the journey I took when I was a young boy.
I carefully listened to stories of how mothers, fathers, and children struggled. They lost opportunities simply because they did not have water. I kept thinking of how I could help them find solutions. I knew this would not be an easy job, but I needed to try.
As former lecturer, I had the idea of hiring graduate engineers from my former university to help design water supply systems that would ensure all communities, schools, and health clinics had access to safe drinking water. The idea was fully supported by Water For People and partners who saw it as an opportunity to also support young engineers to grow in their careers and help communities in need.
Due to the mountainous nature of Rulindo District – and Rwanda at large – water had to be pumped to the hilltops where most communities live. This required heavy investment to construct water systems with pumping stations. Transporting heavy machinery and equipment over hilly and often undeveloped terrain was not easy. I have vivid memories of the many times we had to gather local community members to help us carry equipment over rough and slippery ground. They would tie this heavy equipment on tree trunks and carry the load on their shoulders to the destination. It was highly demanding work, but it showed their resolve and the need to bring water closer to communities.
Lack of planned settlements was the most significant barrier to reach Everyone in Rulindo. At the time, people lived in scattered fashion, across hills and mountains. It was hard to reach every Household. As partners worked together to devise a solution, with the help of Rwanda Housing Authority, the district committed to develop physical plans of residential areas where people could live safely and in more organized settings.
After the physical settlement plans were available, I found that some planned settlements did not have water infrastructure, and other communities already served with water were not planned settlements. I had to go back to the drawing board to determine how those unserved and underserved areas could be better reached with safe drinking water. Based on those findings, the missing water infrastructure was designed to ensure that all planned settlements in the entire district would be served.
With my passion for water and the inspiration derived from Marianne and her neighbors, combined with the resolve from all Rulindo Challenge Program partners, Rulindo District achieved universal water supply infrastructure coverage in 2019.
Today, as I look back on where we came from to where we are heading, I have many emotions. First, I am filled with pride and happiness that I had an opportunity to work on a project which leaves an indelible mark in the lives of the population of Rulindo District and brings about positive change. Second, I feel that there are no challenges that cannot be overcome. Bringing safe and reliable water and sanitation services to each of the district's 494 villages was no small feat, and I am proud that we were able to achieve the Rulindo Challenge Program objectives. Every day when I go to work, I carry the resilience, support, and collaboration of my colleagues at Water For People and all partners. It is this level of collaboration and partnership which drove the Rulindo Challenge to a successful conclusion. It now inspires my everyday work and keeps alive my resolve to ensure that everyone has access to safe water. I can't wait to take on my next challenge and continue to make my childhood dream a reality for thousands of people across Rwanda and beyond.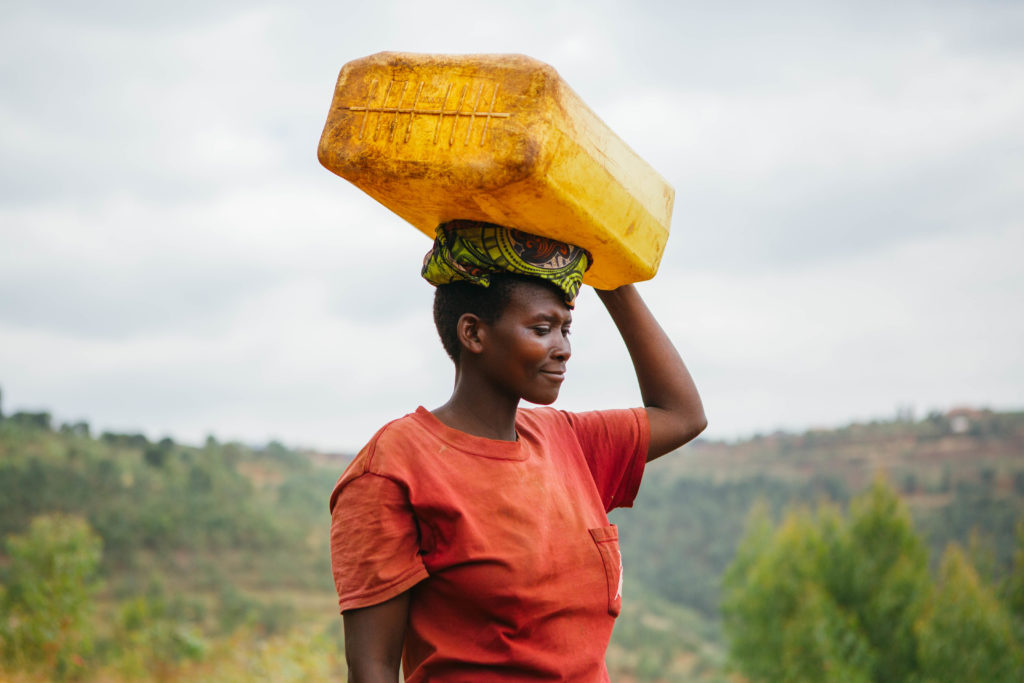 Share this post with your networks